Because important information was not available to the public in a timely manner, the Board of Supervisors on Tuesday was forced to continue the hearing on the Corral de Tierra Shopping Center. They re-scheduled the hearing for the controversial project for Tuesday, January 10th. LandWatch will keep you posted!
The shopping center proposed for the intersection of Highway 68 and Corral de Tierra Road was before the Board of Supervisors on April 12th, May 17th, and July 12th. It is again before the Board this Tuesday, November 8th at 1:30pm. The developer was told many times by the Board to decrease the overall size and to include plans for the dilapidated gas station in front of the proposed center. To learn more about the history of the project, click on this link: http://mclw.org/pages/issuesactions/toroarea.html
The gas station site currently has soil contaminated with MTBE, and the County required the site cleaned up in 2002. This clean up was never completed. The toxin MTBE is dangerous to the water supply and neighboring properties. According to a work plan submitted by the developer (8.1MB PDF) he does not plan to clean up the site until October of 2012 – see page 5 of the report. The minimum 12 month delay in the excavation/remediation of the gas station site is not explained, but what is clear is that the developer wants the County to give approval for the shopping center while avoiding cleaning up the contaminated soil. Clearly the Board of Supervisors should not consider this proposal until the property owners do the right thing and clean up the contaminated soil as they were ordered to do in 2002!
LandWatch urges you to attend the hearing this Tuesday and voice your concerns about the project. The contaminated soil is not the only problem! Traffic impacts to Highway 68 would be enormous and the water supply for the project is tenuous. We hope to see you Tuesday because this fight isn't over yet!
What:

When:

Tuesday, November 8th at 1:30pm

Where:

Board of Supervisors Chamber
168 W. Alisal Street
Salinas, CA 93901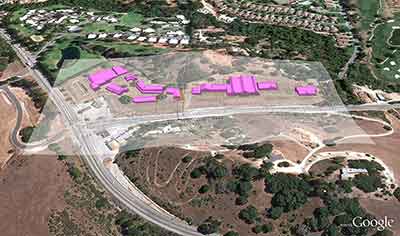 Proposed Corral de Tierra Shopping Center Complex
(click on image to enlarge it)
[Return to Corral de Tierra Shopping Center Issues and Actions]
posted 11.03.11