LandWatch has a professional staff to monitor and publicize critical land use proceedings and to organize citizen involvement, when necessary, to ensure good land use planning. LandWatch is a California non-profit public benefit corporation with tax-exempt status.
LandWatch is particularly well qualified to guide this effort. Its organizers include environmental professionals and community activists with decades of cumulative experience in land use issues.
Staff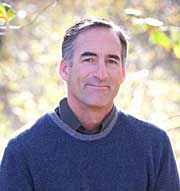 Mike DeLapa, Executive Director
LandWatch founder Michael DeLapa/DeLapa Consulting is an independent consultant who specializes in organizational strategy and interim executive roles. His recent assignments include interim executive director of the California Ocean Science Trust; consulting vice president of marketing and strategy for FotoNotes; interim chief operating officer of New Leaf Paper; interim vice president of marketing for the Cleantech Group; and business consultant to Mal Warwick Associates/Donordigital and Frans Lanting Studios. In addition to founding LandWatch, Michael has launched and managed a variety of business and non-profit ventures, including the California Fisheries Fund; the Monterey Bay National Marine Sanctuary Foundation; Sea Studios Foundation; and Arena Solutions. Michael received his Master of Business Administration degree and Public Management credential from the Stanford Graduate School of Business and its Public Management Program. He also holds Master of Science and Bachelor of Science degrees in biology from Stanford University.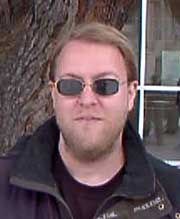 Chris Flescher, Administrative Assistant
Chris Flescher came to LandWatch initially as a volunteer interested in the pedestrian and bicycle friendly policies of "Traditional Neighborhood Development." Although his duties at LandWatch are primarily administrative, he has been actively involved in substantive transportation and land use issues since 1995. He has worked as a volunteer with the Southern California Transit Advocates, the Rail Passenger Association of California, and the National Association of Rail Passengers.
For the last several years, Chris has attended the monthly meetings of the Rail Policy Committee for the Transportation Agency of Monterey County (TAMC), and the monthly TAMC meetings of the Bicycle and Pedestrian Advisory Committee, for which he is an official alternate member. Chris also attends the monthly meetings of the City of Salinas Bicycle and Pedestrian Advisory. Chris serves as an associate director of the Rail Passenger Association of California (Railpac).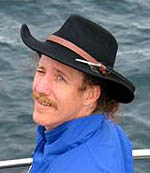 Jeff Reynolds, Web Site Developer
Dr. Reynolds has developed a range of multimedia interactives, from interactive databases used to track humpback whale behavior in Alaska to an interactive exhibits that let you "be a bass" in an Ozark stream. He has designed and developed interactive exhibits for museums such as the Monterey Bay Aquarium, St. Louis Zoo, the National Aquarium, the African American Museum and Library at Oakland, and the Martin Luther King Multicultural Center in Albuquerque. He has designed and produced critically acclaimed CD ROMs for the National Science Foundation (Earth Explorer published by Apple Computer), Jean-Michel Cousteau (Cities Under the Sea: Coral Reefs published by Enteractive) and Block Publishing (Whale Tales book and CD-ROM series). He has also developed websites for environmental organizations. The core of Dr. Reynolds design philosophy is intuitive design where the design is found, not created and the subjective, intuitive is the first connection with the visitor and the objective, conscious the second. Dr. Reynolds has a doctorate in Molecular Biology and also has deep interests in science, the environment, sustainability, and education.
Melanie Schlotterbeck, Consultant
Melanie launched her consulting career in 2005 and though she has a bachelor's in Geography and a master's in Environmental Studies she continues to expand her skill sets and knowledge into other areas. Numerous environmental non-profit clients utilize her skills in graphic design, digital content creation, event planning, direct mail, fundraising, member outreach, and more. One of her career highlights was her appointment by Orange County Transportation Authority to its Environmental Oversight Committee and her election as its Vice Chair. This Committee oversees the spending of $243.5 million in acquisition and restoration funding that mitigates the habitat impacts of 13 freeway projects. More recently, she wrote and published the General Plan Resource Directory for Friends of Harbors, Beaches, and Parks to help Orange County cities adopt more sustainable policies. In 2011 and 2012, she negotiated conservation policies into two regional planning documents in Southern California–both were the first of their kind in the state. In 2017 and again in 2021, with a 5-0 vote, Melanie was appointed to the Brea Planning Commission for a four year term.
Board of Directors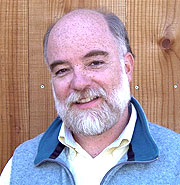 Chris Fitz, President, Board of Directors
Chris was the Senior Officer for Development and Strategic Planning at the Center for Nonproliferation Studies (CNS), a research and training center of the Monterey Institute of International Studies. CNS is dedicated to combating the spread of weapons of mass destruction by training the next generation of nonproliferation specialists and disseminating timely information and analysis. Chris was in charge of all fundraising activities, fiscal oversight, and was a principal participant on the strategic planning and senior management team at CNS. During his eight years at CNS, the annual budget grew from $700,000 to more than $6 million, with over 60 full-time employees and 75 graduate students in Monterey and branch offices in Washington, DC, and Almaty, Kazakhstan. Before moving to Salinas from Marina, Chris helped found Marina 2020 Vision, a grassroots organization encouraging sensible growth and combating urban sprawl in Marina, California. Along with two other founding members, he created an active membership of 60 volunteers and organized a successful campaign to qualify an "Urban Growth Boundary initiative" for the November 2000 election. From 1987 through 1992, Chris served as a board member and treasurer of the Monterey County Sanctuary (MCS), an organization that served a community of over 3000 Central American refugees in Monterey County. Chris received a BA in International Policy Studies from the Monterey Institute of International Studies.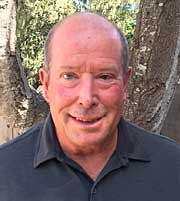 Tom Ward, Treasurer, Board of Directors
Tom Ward, a native of Chicago, moved to Northern California in 1975. He and his wife Leslie lived in Los Altos for 30 years raising a family. They then move their primary residence to Pebble Beach in 2012. Tom has retired after 25 years in the computer hardware business holding executive positions in Global Business Development, Product Marketing, and Warranty Services. He is also a small business owner having operated Snap Fitness franchises in Monterey, Salinas, and Gilroy.
Both he and Leslie devote considerable time to a number of volunteer organizations on the Monterey peninsula. Tom volunteers as a docent at the Point Sur Light Station and the Monterey Bay National Marine Sanctuary. He volunteers with the Ventana Wilderness Alliance and finds time to coach soccer with the Marina Youth Soccer League. He is an avid hiker throughout Monterey County and the San Francisco Bay Area.
Tom received a BFA from Drake University and an MBA in Management from Golden Gate University.
His primary concern is land use policy and future development in Monterey County and, in particular, the Monterey Peninsula, making the best choices to achieve important economic, environmental, and social equity goals.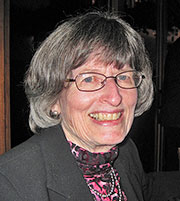 Janet Brennan, Secretary, Board of Directors
Janet Brennan is an environmental planner with 40 years of experience working for local and regional governments and non-profits. Her experience includes air quality, land use, water quality, infrastructure, and hazardous waste planning and environmental review. She has been active in public interest and community groups since the 1960s. Janet is past-president of the Board of Directors of the League of Women Voters of the Monterey County and currently on the Board, a land use consultant for the California League of Women Voters, a founding member and current Board member of LandWatch Monterey County, Chair of the Carmel Valley Land Use Advisory Committee, secretary of Chamber Music Monterey Bay, a Board member of the Salinas Valley Basin Groundwater Sustainability Agency, and chair of the Monterey Bay Region Air District Advisory Committee. She also does environmental consulting for non-profit organizations. In 2013, Janet was one of the Monterey County Commission on Women "Women of the Year," received the 2011 Clean Air Award for Leadership from Breathe California, and received the 2016 Visionary Leadership Award from the Democratic Women of Monterey County. She was a member of 2005 Monterey County Grand Jury. Janet has a BA in Political Science from UC Berkeley.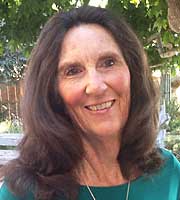 Hetty Eddy, Board Member
Hetty Eddy moved to Salinas with her family in 1977. She has lived in Toro Park ever since. They chose this area to live in because they appreciated its uniqueness and beauty. She became active in several nonprofit organizations, as well as her homeowners' association. She has been active in Toro Area land use issues since the late 70s when she helped establish the Highway 68 Coalition. She continued her volunteer work until she returned to her profession as a teacher in 1984, with the Salinas City Elementary School District. Even though she was raising a family and working full time, she continued her community activity as a Washington Union School District Board Trustee member for 20 years. She was also an active union member in SCESD.
After her children were raised and later retired from teaching, she resumed her interest in the Toro Area land use issues and other nonprofit organizations. She became an active member of the Toro Area Sewer Coalition, and knowledgeable about the Ferrini Ranch and Harper Canyon developments, which she spoke out against at the County Board of Supervisors' meetings. She is very concerned about future potential developments and water usage issues in Monterey County. She is eager to learn about and fight for responsible land-use decisions that will enhance the environment, meet the social and economic needs of Monterey County.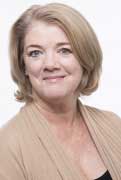 Ann Notthoff, Board Member
Ann Notthoff was a senior advisor to the Natural Resources Defense Council (NRDC) Action Fund. She served as the director of western advocacy at NRDC where she has worked for over three decades. She provided strategic direction for a broad range of campaigns in California and throughout the west to promote climate action, public health, and environmental protection. She led NRDC's efforts to get many of California's nationally significant environmental laws enacted, including the Marine Life Protection Act, the Clean Car Act, the Global Warming Solutions Act, the Sustainable Communities Act, as well as climate and water policy reforms. She led efforts on several statewide ballot campaigns including the successful bipartisan campaign to defeat Prop 23 to defend California's climate program. She is a member of the board of the State Coastal Conservancy and held leadership positions on the board of the California League of Conservation Voters (CLCV) for more than 20 years. She has served on several state ocean and water-related state and federal advisory committees. In 2015, she was honored with CLCV's Environmental Leadership Award. She received her undergraduate degree from the University of Oregon and a master's degree in city and regional planning from the University of California, Berkeley. She has two grown children and lives with her husband and dogs in Carmel Valley.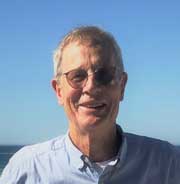 John Swendseid, Board member
John grew up in Montana and received a Juris Doctor degree in 1977 from the University of California Berkeley School of Law. His area of expertise is public finance law, which involves advising state and local governments about financing major capital projects (e.g., schools, highways, water, and sewer systems). John retired from the active full-time practice of law at the end of 2016. He and his family relocated from Reno to the Monterey area after his and his wife's retirement. Together they have four children and two dogs and a cat who loves the Monterey area—the dogs especially enjoy the Carmel beach.
Despina and John are avid walkers/hikers and also enjoy gardening, fix-up projects at home, traveling, reading, lectures, movies, dining, volunteering in various organizations and at various events in the area, and meeting people. Both also very much appreciate the natural beauty of Monterey County and its wonderful inhabitants and are committed to participating in organizations like LandWatch that seek to maintain and enhance the qualities of Monterey County that make it such a great location.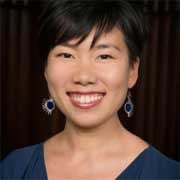 Chelsea Tu, Board member
Chelsea Tu is a public interest attorney with a passion for the environment and environmental justice. She currently works as a senior attorney at the Center on Race, Poverty & the Environment (CRPE), where she advocates for sustainable land use and infrastructure investments in low-income communities and communities of color. Prior to CRPE, Chelsea Tu led statewide climate justice advocacy at Public Advocates. She also worked to protect freshwater resources, curb sprawl, and reduce toxins and pesticides at the Center for Biological Diversity. Ms. Tu received her law degree from the American University Washington College of Law and completed her undergraduate work in environmental sciences at the University of California, Berkeley. Chelsea lives in Seaside and enjoys kayaking, diving, and backpacking.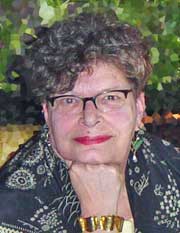 Elizabeth Winchester, Board member
Elizabeth Winchester has been Regional Major Gifts Officer at Planned Parenthood Mar Monte for the Coast and Central Valley for 7 years.
Her academic background was in molecular biology and primate behavior under Jane Goodall at Stanford University. This was followed by more than two decades in Silicon Valley start-ups evangelizing new technology for integrated circuit design. Postings took Winchester to various locales including Boston and Johannesburg, but she always found her way back to northern California.
After studying art at the San Francisco Art Institute, Winchester moved to New York to pursue art making for a decade. As one of the first members of Beacon Artist Union (BAU) she participated in the cultural makeover in this once-forlorn river city into "Williamsburg-on-the-Hudson." Fine art printmaking became her avocation as she haunted the studios of the Woodstock School of Art, Robert Blackburn Printmaking Workshop in the garment district and MudBone Studio 899 in the Hunts Point neighborhood of the south Bronx.
Winchester has been a board member of Chamber Music Monterey Bay for six years. Never a musician herself, she found a love for classical music at an early age through Leonard Bernstein's Concerts for Young People. In New York she was a member of the Howland Chamber Music Circle and reveled in Joan Tower's class at Bard College.
A resident of Seaside, Winchester agrees with the adage "all politics is local" and is active in supporting candidates and policies that will preserve this paradise through intelligent, moral decision making that leads to social justice, diversity, and equity.