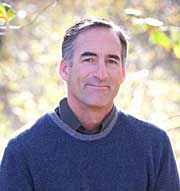 Michael D. DeLapa
Founder / Executive Director
Member, Legacy Stewards
"I want to help LandWatch remain a model for how we can address the issues that leave our community more sustainable."
Mike is an entrepreneur by many measures. Early on he wrote a screen play and worked for a startup company. He staffed a successful state congressional campaign of a state senator (Gary Hart) for two years. He founded a science center natural history video production company. The list goes on, including a consulting stint with Environmental Defense Fund, and serving other clients seeking executive coaching.
He's always had a deep commitment to the environment. His first master's degree was in marine ecology, the second in environmental policy. These and social causes became part of his DNA. Always politically active, Mike's also made time for competitive beach volleyball, organizing and running tournaments. And running rivers too!
LandWatch was Mike's idea. He came across a community nonprofit in Oregon that was organized around principals of good planning. California didn't have much state involvement, nor principals, around land use planning. Starting in the early 80s Mike wanted to introduce sound planning at the local level. He first got involved in Santa Barbara with some groups related to this. They also addressed waste recovery and gardening. However, they acted more like a think tank. Not quite what he had in mind.
A decade or so after moving to Monterey Mike convinced friends to donate money to help him found LandWatch. In lieu of wedding gifts, he and his wife asked guests to donate funds to LandWatch. Mike met with high net-worth folks and acquired a lead gift to help make the launch. This soon led to hiring the first executive director, Gary Patton. And as is said, the rest is history.
Mike would like to pass on several ideals to future generations. The first area has to do with founding concepts of Landwatch:  a sense of place, an understanding of where you live, a connection to the people, land, and community. The second area is being able to go beyond yourself, the ability to engage with democracy individually at the local level and effect how our community grows, engages and adapts, resulting in civic mindedness.
He says that Monterey County is an enlightened area, but with the same problems that exist everywhere. A wealth gap. Housing needs. Land use issues. Smart housing needs. Climate policy with attendant climate change.
Mike wants to make sure that LandWatch continues with the sustainable model it has put in place to help successive generations. LandWatch's future is important to him. In his own words:
"I have a difficult time telling people what they should do. If the values, principals and the engagement of LandWatch is meaningful to you, if you care about climate change, housing, and sustainability, consider making your own legacy gift.
I love Monterey County. I can make a difference in my local community. If you are attracted to this as well, help make a good investment in the future of our county."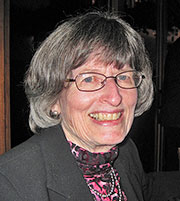 Janet Brennan
Member, Legacy Stewards
"LandWatch is the only local organization of its kind that is fully staffed and has the expertise to respond to a multitude of land use, economic, and environmental issues."
The Process of Planning is Compelling and Effective
Janet has had a full range of careers.  She's currently an attorney, was a single mom, president of League of Women Voters in Ventura, a land use manager for the County there, and for a while worked for the Monterey County Planning Department. And there's more.
With this background she readily responded to a LandWatch request two decades ago to get involved. She knew that historically, except for very large groups like Natural Resources Defense Council or Environmental Defense Fund, there weren't local organizations devoted to land use and environmental issues that had full-time staff.
At the founding of LandWatch she worked with Gary Patton, its first executive director. He was incredibly visionary, competent, an attorney, and always had great ideas. He lead LandWatch to accomplish remarkable outcomes in its early years. This included the production of an entire booklet on planning which led to the creation of an entire general plan which was taken to the public.
Janet says that LandWatch is the only organization of its kind that is fully staffed and has the expertise to respond to a multitude of land use, economic, and environmental issues. It has extraordinary leadership including a resilient board. In addition to its internal legal and technical expertise, it's had the flexibility and capacity to employ competent outside consultants when needed. It's the one organization in Monterey County that is trying to effectively address climate change issues, the single-most important issue of our time. To be able to continue that work is incredibly important for future generations.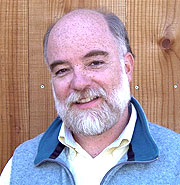 Chris Fitz
Member, Legacy Stewards
"LandWatch channels community concern into effective action and success."
You Can Shape Your Community
Chris has been involved in LandWatch for more than two decades including roles as street volunteer, executive director and board member. His story of how he first got involved shows Chris' commitment to ongoing involvement of citizens in their community.
"Back in 2000 I got a phone call from Mike DeLapa, then in his first incarnation as executive director. I had heard a little bit about LandWatch from Mike who was a fellow beach volleyball player. We weren't very close.  I contributed some money and that was about it. Mike was living in Marina and was involved through LandWatch in updating its general plan. There was a meeting at City Hall of interested citizens who wanted to get involved and I met Bruce Delgado, who went on to be mayor of Marina, and Ken Gray, who became a board member of LandWatch but was then a Marina City Council member.
This turned into Marina 2020, which, among other things, called for an urban growth boundary on the city ballot. All five city council members opposed. However, the people of Marina voted in favor—52%/48%. That's the big picture. But what especially interested me is what happens on the individual level as illustrated by the following story.
Back in 2000 most of my friends were on living on the Peninsula, many said, 'Aw gee Chris, that urban growth boundary issue sounds like a bridge too far. That's for Berkeley, or Santa Cruz. Marina is a blue color town.' I didn't listen to them. It was the beginning of my activism. I went door to door collecting signatures. I had some doors slammed in my face. And then it happened. A guy answered, a stereotypical biker with long hair and a beer in hand. I showed him my petition, my foot in the door. I looked aggressive and said, 'Just give me a minute. You work hard for your money. Why give it all away to a developer. They only pay for roads and sewers, not the extras, so "you" are going to pay for it.'  I put a finger in his chest. He asked me to tell him more then grabbed the clipboard and signed the petition.
This example is a bit dramatic. But I like this – the community shaping its destiny. I've always considered myself an environmentalist, but not with a capital 'E'. I like helping citizens shape the destiny of their own town."
Chris was part of the Landwatch pivot to expand its focus to include affordable housing. He likes how LandWatch is different from the Sierra Club, for example, in this regard. LandWatch cares about equity and a sustainable economy. Prior to the housing work many community members thought LandWatch didn't care about these kinds of things and now that has changed.
The inspiration in getting involved at the grassroots that Chris experienced and witnessed showed him that LandWatch can help shape our community. Of course, Monterey County natural beauty is important and should be sustained. However, it's equally important that continued community involvement over time will motivate future generations to also stay involved to make a difference in the quality of life for all of the community.